Catalog Automation can take your existing product data and current InDesign layout files and develop a simple EasyCatalog based automation workflow solution.
This solution consists of data (accessed using an EasyCatalog Data Panel) that is merged with standardised content (saved using an EasyCatalog Library) to automatically create catalogue pages. A typical solution can create 100 pages in just a few minutes.
Our designers have been using EasyCatalog for many years in a number of complex environments and can tailor our solution to meet your specific requirements.
Data hierarchy
EasyCatalog requires hierarchical data in order to create the various category and product hierarchies typically found within a catalogue.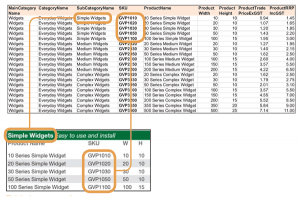 EasyCatalog Data Panel basics
Panel layout
EasyCatalog displays column headings and content within the data panel.

Grouping
For typical file based pagination this involves the creation of a single flat file including all hierarchy items. This file is then loaded into an EasyCatalog Data Panel and the various levels within the hierarchy are created as groups.

EasyCatalog Libraries
Field specifiers
EasyCatalog uses field specifiers, shown as blue [ ], located within library files to merge content from your data panel.

Different templates for different product types
EasyCatalog allows you to create different layout types for different content. For example, a small library element may be created to take up 1/4 of a page with little supporting text; or a larger library element may be designed to feature multiple images and more expansive text. The selection of these libraries would be achieved using the pagination rules options linked to a specific field contained within the data.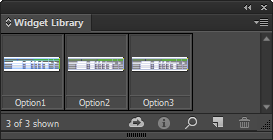 Pagination rules
A number of options are able to be configured for each library via the setting of Pagination Rules.