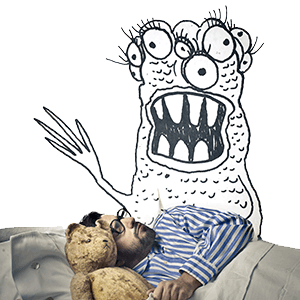 Does your catalog give you nightmares?
Does the mere thought of producing your catalog cause you sleepless nights?
Do changes to your product range during production cause you to scream?
Will you spend hours and hours reviewing proof after proof?
How we help
Catalog Automation helps you and your team to make better, more engaging catalogs, price lists, brochures and directories that help you to sell more. Our structured 5 steps to catalog success™ process will transform your existing manual processes. Your catalogs will cost less, be produced faster and contain fewer errors while at the same time boost customer engagement and increase revenue.
Your product managers may choose to use Producty®, our web-based product information management tool, to easily manage your products and product information. We will also help your graphic designers to to improve the look and feel of your catalog while removing unnecessary manual labour.
Catalog Automation can be engaged to either upskill your existing team; or to produce part or all of your catalog externally.
We were able to overhaul our catalogue production and save some serious time.
Westlab
Marketing Manager
It has changed the management of our pricelist from the worst job in the place to make it a pleasure
Lightforce
Marketing Manager
With new data we can update our entire 500 page catalogue in a day. Wow.
Benefits for your business
Boost customer engagement and revenue

Creating attractive, consistently presented catalogs with less errors helps your customers to easily find what they are looking for and purchase more from you.

Save money

Reduce direct labour required to create catalog pages and to edit products as information changes. Consider a manually produced catalog costing $26,0001. An automated solution for the same catalog could cost $15,0002 – a saving of $11,000 (or 42%) in the first year alone.

1 13 weeks x 40 hours x $50 per hour. 2 1 week x 40 hours x $50 per hour + $10,000 Catalog Automation professional services + $3,000 software.

Save time

Shortened production time frames mean catalogs feature products as they are released. Catalogs released ahead of price rise dates ensure new pricing is effective earlier.

Increase accuracy

Information is sourced directly from your spreadsheet, ERP database or XML file.

By using a linked data source you no longer need to manually edit content and re-proof.

Update your data automatically

Product information can be refreshed as new products are introduced.

If a product attribute or price alters you can refresh your data directly on to the page.

Create more versions

Re-use the same templates with different data to easily produce a catalog for a different market location or segment.

Enhance catalog navigation

Make it easier for customers to navigate your catalog by including a product index, category contents pages or other summary data without manual cross-referencing of page numbers.
About us
Catalog Automation is an expert at automating the creation of catalog pages and other data-driven publishing. We are experts in using both the native InDesign XML import and EasyCatalog.
Contact us
Catalog Automation Pty Ltd
Tel 1300 313 644
ABN 96 169 704 992
71 Gipps Street
Collingwood Vic 3066
Australia
Our customers
Catalog Automation has completed projects across the world for customers in many different industries. We have produced case studies highlighting our work with Lightforce (automotive accessories) Westlab (laboratory supplies) and Kadac (health food wholesaler).